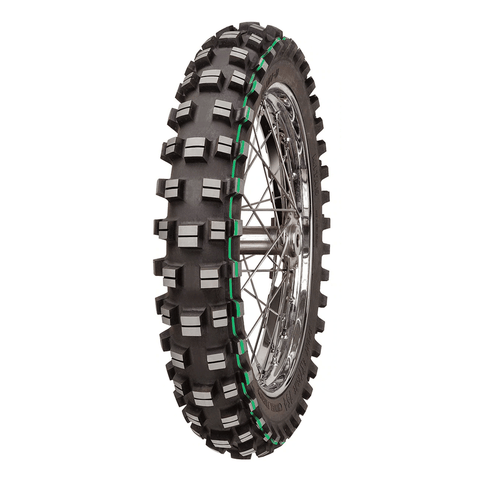 Mitas XT-754 Super Light 120/90-18 Green Stripe Soft
IMPORTANT: Calculated shipping times for tires may not be accurate, please contact brad@berad-products.com if you have any questions or concerns.
Mitas 120/90-18 XT-754 Super Light Motocross Country Cross Extreme Green Stripe 65M Tire
Recommended Terrain: Sand, Grass, Gravel (low/mid speed), Loam, Mud, Ruts, Dry Rocks, Roots.
The XT-754 utilizes a tread pattern that features a series of tall, aggressive knobs, with a stripe of single knobs down the center. This pattern focuses weight onto a smaller area of contact which bites deeply into soft terrain. The wide knob spacing evacuates mud making it great for deep ruts and heavily soaked loam. Given that it still has a soft rubber compound, it sticks quite well to rocks at low pressure. The tall knobs act as a sort of "grapple" on smaller ledges and roots. This tire suits the rider who loves to shred fast but also retain grip on the slower, more technical sections. Note that on hard packed dirt roads, the tread pattern may create a certain "wobble" at higher speeds. Tubes, Mousse Bib, and Tubeless Systems can all work well for this tire.

Rim: 18"
Width: 120/90
Tread Pattern: XT-754
Load/Speed: 65M
Position: Rear
DOT/NHS: DOT
Stripe Color: Green (Soft)
Tube Type: Tube
Weight: 11.99 LBS
---
We Also Recommend