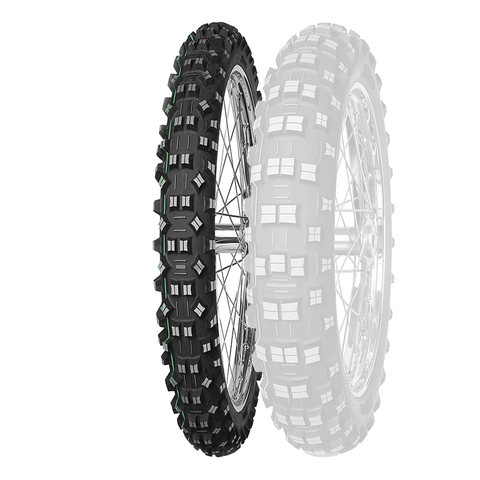 Mitas Terra Force-EF Super Light 90/100-21 Green Stripe Soft
IMPORTANT: Calculated shipping times for tires may not be accurate, please contact brad@berad-products.com if you have any questions or concerns.
Mitas TERRA FORCE-EF Enduro FIM Green Stripe
Recommended Terrain: Wet/Dry Rocks, Wet/Dry Roots, Gravel, Extreme Technical Terrain, Singletrack
This tire is designed for the most extreme and technical terrain. Wet, slimy, rocks and roots. Steep downslopes and off-cambers. The Terra Force-EF provide ultimate traction wherever you are. Molded with detailed slots and ridges to ensure maximum grip and reduce mud loading.

Rim: 21"
Tread Pattern: Terra Force-EF
Load/Speed: 54R (90/90), 57R (90/100)
Position: Front
DOT/NHS: DOT
Stripe Color: Green (Soft)
Tube Type: Tube
Weight: 8.16lbs (90/90), 8.51lbs (90/100)
---
We Also Recommend