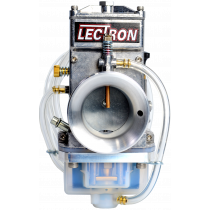 KX 500 Kit
Kit includes carb and throttle cable

The 40mm is a good option applications like harescrambles, motocross, and snow bike applications for stock 500s. Modded 500s should consider stepping up to the 44HV for dunes and snow biking. Hotter bikes being used for dunes and snowbiking (525 kits with port work, drag pipes, etc.,) would benefit from the added overrev of the 44mm Standard carb.
The adjustment tool is highly recommended in case you have to do any tuning. Using pliers to make adjustments can scratch the metering rod and alter the fuel delivery characteristics.
Sick of trying to tune your stock carb? It's a pain in the a$$ swapping jets and adjusting needles trying to get that perfect, crisp, responsive tune. Thankfully there is Lectron. Lectron uses a special metering rod system that automatically adjusts for elevation and temperature change. You get the simplicity of a carb with the benefits of fuel injection! Lectron carbs provide higher peak horsepower, better bottom end torque, faster throttle response, better fuel efficiency, and of course you don't have to swap jets ever! Each carb is custom built specifically for YOUR bike and riding style. Just install and RIDE. 
*Prices vary based on what's included with each kit. Some bikes require aftermarket throttles, throttle cables, and ODI cams. All parts required for your bike are included in the price and will be shipped with your carb. If you have any questions please contact me brad@berad-products.com
Review video: https://youtu.be/58RqNoGYNgc
---
We Also Recommend