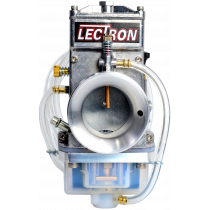 KDX 200 Kit
Note: The Lectron carb is bigger than the stock KDX carb. They will not fit with a Boyesen Rad Valve without modification. 

This kit includes:
34mm Power Jet Carb
8mm Barnett HD Long throttle cable
Metering Rod Adjustment Tool
Throttles that use a guide without a wheel will have too much free play and will NOT work with our cable. If you have a throttle like this, you can order the Motion Pro Vortex throttle, or any modern KX 125/250, YZ 125/250, or RM 125/250 throttle will work.
The adjustment tool is highly recommended in case you have to do any tuning. Using pliers to make adjustments can scratch the metering rod and alter the fuel delivery characteristics.
Sick of trying to tune your stock carb? It's a pain in the a$$ swapping jets and adjusting needles trying to get that perfect, crisp, responsive tune. Thankfully there is Lectron. Lectron uses a special metering rod system that automatically adjusts for elevation and temperature change. You get the simplicity of a carb with the benefits of fuel injection! Lectron carbs provide higher peak horsepower, better bottom end torque, faster throttle response, better fuel efficiency, and of course you don't have to swap jets ever! Each carb is custom built specifically for YOUR bike and riding style. Just install and RIDE. 
*Prices vary based on what's included with each kit. Some bikes require aftermarket throttles, throttle cables, and ODI cams. All parts required for your bike are included in the price and will be shipped with your carb. If you have any questions please contact me brad@berad-products.com
Review video: https://youtu.be/58RqNoGYNgc
---
We Also Recommend