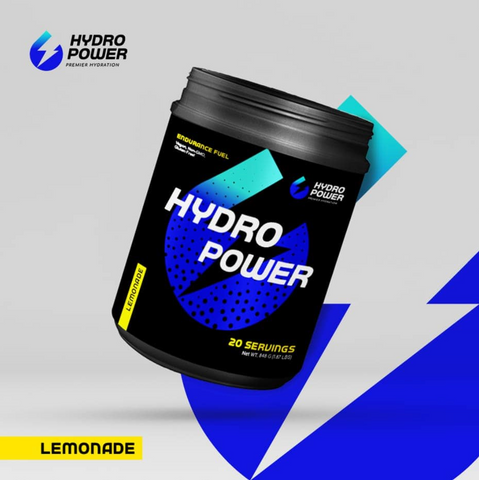 Hydro Power - Hydration Endurance Fuel
Hydro Power - Hydration Endurance Fuel
⚡ Helps get rid of arm pump

 

&

 

muscle cramping
⚡ Provides immediate and long-lasting energy

⚡ 

Increases stamina & mental clarity
⚡ Delays fatigue

⚡

 Super light on the stomach

⚡

 Professional strength hydration formula

⚡

 5x the electrolytes of the traditional sports drink

⚡

 

850 mg of electrolytes per serving
⚡

 

39 g of carbs per serving

⚡

 

2:1 glucose to fructose mixture
HYDRO POWER'S  recommendations: 
For an ideal mixture, mix 1 scoop, of HYDRO POWER into 16oz of water. 1 scoop of HYDRO POWER is optimally effective for 30 minutes of training. Can be used before, during and after training to stay hydrated and energized.
HYDRO POWER'S endurance fuel is made for motocross athletes, mountain bike athletes and all other types of disciplines where hydration and endurance is essential. Formulated with a 2:1 glucose to fructose ratio, it ensures a quick and smooth energy level throughout the activity. 
HYDRO POWER'S industry-leading electrolyte formulation will keep the athlete's body hydrated preventing muscle cramps and fatigue. It is created with the ideal mix of carbohydrates, sugars, electrolytes and vitamins to fuel, hydrate and enable peak performance.
As training and exercise is prolonged, an athlete experiences less energy and more fatigue. HYDRO POWER keeps energy high and delays the fatigue that occurs late into racing, exercising, or training.
With an increase in energy, mental clarity and stamina, an athlete can expect results in improved performance. With a clean taste and a smooth consistency, HYDRO POWER'S premier endurance formula powers the athlete through the most enduring challenges.
Our Endurance Fuel formulation was developed with the assistance of a Board-Certified Specialist in Sports Nutrition and a registered dietician. The latest research in sports nutrition has been used to formulate HYDRO POWER making it the best endurance product possible.
HYDRO POWER'S manufacturer follows the strictest of Current Good Manufacturing Procedures (cGMP) and is an FDA registered facility.
The product is safe and legal for use in any sporting event governed by the WADA, the USADA, the IOC, and the UCI, and others.
HYDRO POWER uses only Pharmaceutical grade ingredients.
Formulated and Made in the USA!
Vegan, Non-GMO and Gluten Free!
---
We Also Recommend