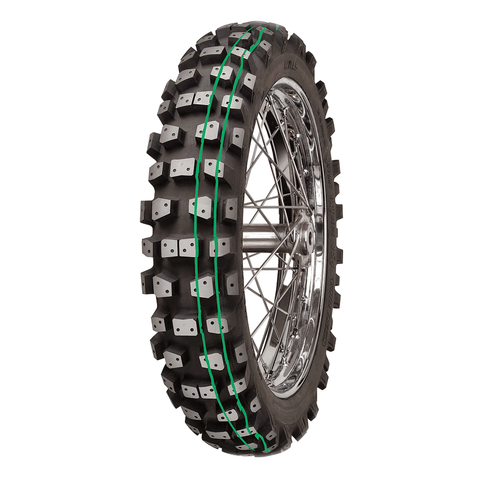 Mitas XT-454 110/100-18 Double Green Stripe Super Soft
IMPORTANT: Calculated shipping times for tires may not be accurate, please contact brad@berad-products.com if you have any questions or concerns.
Mitas 110/100-18 XT-454 Super Soft Motocross Country Cross Extreme 2 Green Stripes 54M Tire
Recommended Terrain: Wet/Dry Rocks, Roots, Shale, Mud, Gravel on Rocks, Silt on Rocks, Extreme Terrain, Technical Singletrack
BeRAD recommends this as the "do-it-all" extreme tire. Super soft rubber compound with large knobs for excellent grip on rocks and roots. Tall knob height to dig in through loose gravel and soft terrain. Thin, pliable carcass that molds around obstacles to pull the bike through very rough sections. Super lightweight construction overall for great handling at higher speeds. Wet, dry, muddy, this tire does it all! Recommended to use a soft mousse bib or tubeless system, however, with the thin carcass a tubeless system is vulnerable to puncture flats. Ultra Heavy duty tubes at lower pressures perform well in this tire also.
Rim: 18"
Width: 110/100
Tread Pattern: XT-454 NHS
Load/Speed: 54M
Position: Rear
DOT/NHS: NHS
Stripe Color: 2 Green (Super Soft)
Tube Type: Tube
Weight: 11.68 LBS
---
We Also Recommend