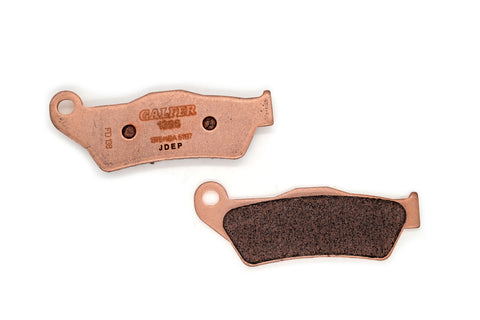 Galfer HH Sintered Front Brake Pads - Brembo GAS GAS Husqvarna KTM Sherco FD138G1396
Excellent feel and modulation, this sintered pad compound is built for off road and street use depending on the application. Great heat recovery and easy on the rotor, this is our most popular high-performance compound. Precision made in our Galfer factory in Spain.
For moderately aggressive riding on street or off road. Great for everyday sport street riding, canyons and aggressive or heavy braking. For off road applications, this compound is excellent in varying conditions, handling high heat and race use.
Fitment:
Aprilia ETV Mana 2002
Aprilia RST Futura 1000 2001-2005
Brembo Brembo All Years
Ducati 695 Monster 2006-2009
Ducati Monster 620 Dark 2005
Ducati Monster 800 S2R 2005-2007
Ducati Multistrada 1200 2015-2016
Ducati Multistrada 1200 S 2015-2016
Ducati Multistrada MTS 620 2005
GAS GAS EC 125 1994-2000
GAS GAS Enducross 80 1994
GAS GAS MC 125 1994-2000
Harley Davidson Street 500 2016
Harley Davidson Street 750 2016
Husaberg 125 TE 2011-2015
Husaberg 250 FE 2013-2015
Husaberg 250 TE 2011-2015
Husaberg 300 TE 2011-2015
Husaberg 350 FE 2013-2015
Husaberg 390 FE 2010-2015
Husaberg 400 FE 2000
Husaberg 450 FC 2004
Husaberg 450 FE 2004 2013-2015
Husaberg 450 FX 2010-2015
Husaberg 501 FC 1995-1999
Husaberg 501 FE 1995-1999 2014-2015
Husaberg 550 FC 2004
Husaberg 550 FE 2004
Husaberg 600 FC 1995-1999
Husaberg 600 FE 1995-1999
Husaberg 650 FC 2004
Husaberg 650 FE 2004
Husqvarna 125 SM S 4T 2011-2013
Husqvarna 125 TE 4T 2011-2013
Husqvarna 250 TE R 2013
Husqvarna 310 TE R 2013
Husqvarna 449 TE 2011-2013
Husqvarna CR 125 1995-2013
Husqvarna CR 250 1995-2005
Husqvarna CR 360 1994-1999
Husqvarna E-GO 2012
Husqvarna FC 250 2014-2022
Husqvarna FC 350 2014-2022
Husqvarna FC 450 2014-2022
Husqvarna FE 250 2014-2022
Husqvarna FE 350 2014-2022
Husqvarna FE 350 S 2015-2022
Husqvarna FE 450 2014-2022
Husqvarna FE 501 2014-2021
Husqvarna FE 501 S 2015-2021
Husqvarna FX 350 2017-2021
Husqvarna FX 450 2017-2021
Husqvarna SM 125 S 2000
Husqvarna SMS 125 (2T) 2002-2011
Husqvarna SMS-4 125 (4T) 2010-2011
Husqvarna TC 125 2014-2021
Husqvarna TC 250 2002-2012 2015-2021
Husqvarna TC 449 2011-2013
Husqvarna TC 450 2005-2010
Husqvarna TC 510 2004-2009
Husqvarna TC 610 1994-2000
Husqvarna TE 125 2014-2016
Husqvarna TE 150 2017-2021
Husqvarna TE 250 2002-2012 2015-2021
Husqvarna TE 300 2014-2021
Husqvarna TE 350 1994-1999
Husqvarna TE 410 1994-1999
Husqvarna TE 410 E 2000
Husqvarna TE 449 2011-2013
Husqvarna TE 450 2003-2005
Husqvarna TE 510 1995-2010
Husqvarna TE 511 2011-2013
Husqvarna TE 570 2000
Husqvarna TE 610 1994-2000
Husqvarna TE 630 2010-2011
Husqvarna TE 250i 2018-2021
Husqvarna TE 300i 2019-2021
Husqvarna TX 125 2017
Husqvarna TX 300 2017-2021
Husqvarna TX 300i 2019-2021
Husqvarna TXC 250 Cross Country 2009-2012
Husqvarna TXC 450 Cross Country 2009-2011
Husqvarna TXC 510 Cross Country 2009-2011
Husqvarna WR 125 1995-2013
Husqvarna WR 250 1995-2013
Husqvarna WR 300 2009-2013
Husqvarna WR 360 1994-2001
Husqvarna WRE 125 1993-2011
KTM 125 EGS 1995-2003
KTM 125 EXC 1995-2007
KTM 125 SX 1993-2022
KTM 144 SX 2004-2008
KTM 150 SX 2008-2021
KTM 150 XC 2008-2015
KTM 150 XC-W 2017
KTM 200 EGS 1998-2003
KTM 200 EXC 1998-2008
KTM 200 SX 2003-2004
KTM 200 XC 2006-2009
KTM 200 XC-W 2006-2016
KTM 250 EGS 1994-2002
KTM 250 EXC 1994-2007
KTM 250 EXC-F 2017-2019
KTM 250 MX 2003
KTM 250 SX 1994-2022
KTM 250 SX-F 2003-2022
KTM 250 XC 2004-2021
KTM 250 XC-F 2006-2021
KTM 250 XC-W 2006-2021
KTM 250 XCF-W 2012-2016
KTM 300 EGS 1994-2005
KTM 300 EXC 1994-2005
KTM 300 MXC 1994-2006
KTM 300 SX 1994-2005
KTM 300 XC 2006-2021
KTM 300 XC-W 2006-2021
KTM 300 XC-W Six Days 2016-2021
KTM 350 EXC-F 2012-2021
KTM 350 SX-F 2010-2022
KTM 350 XC-F 2010-2021
KTM 350 XCF-W 2008-2016
KTM 350 XCF-W Six Days 2016
KTM 360 EXC 1996-2003
KTM 360 SX 1996-2003
KTM 380 EXC 1996-2003
KTM 380 SX 1996-2003
KTM 400 EGS 2000-2002
KTM 400 EXC 2000-2007
KTM 400 SX 2000-2002
KTM 400 XC-W 2008-2011
KTM 450 EXC 2003-2014
KTM 450 EXC LE 2008-2014
KTM 450 EXC-F 2019-2021
KTM 450 EXC-F Six Days 2017
KTM 450 EXC-R 2008-2014
KTM 450 MXC 2004
KTM 450 SX-F 2003-2022
KTM 450 XC-F 2004-2021
KTM 450 XCF-W 2003-2016
KTM 500 EXC 2004-2016
KTM 500 EXC Six Days 2016
KTM 500 EXC-F 2017-2021
KTM 500 MX 1992-1995
KTM 500 XC-W 2012-2016
KTM 505 SX-F 2007-2009
KTM 505 XC-F 2007-2009
KTM 520 EXC 2001-2003
KTM 520 SX 2001-2003
KTM 525 EXC 2003-2007
KTM 525 MXC 2004
KTM 525 SX 2003-2006
KTM 530 EXC 2008-2012
KTM 530 XC-W 2008-2012
KTM 620 EGS 1995-1999
KTM 620 EXC 1995-1999
KTM 620 SX 1995-1999
KTM 625 EXC 2003
KTM 625 SXC 2003-2006
KTM 640 LC4 Adventure R 1999-2003
KTM 640 LC4 Enduro 1999-2004
KTM 790 Adventure 2019-2021
KTM 790 Adventure R 2019-2020
KTM 950 Adventure 2003-2006
KTM 950 Adventure S 2003-2006
KTM 950 Superenduro R 2006-2009
KTM 950 Supermoto 2005-2006
KTM 950 Supermoto R 2005-2006
KTM 990 Adventure ABS 2007-2012
KTM 990 Adventure Baja ABS 2013
KTM 990 Adventure Dakar ABS 2012
KTM 990 Adventure R 2009-2012
KTM 990 Adventure S 2007-2008
KTM 990 SMR 2008-2011
KTM 990 SMR (Supermoto-R) 2009-2011
KTM 990 SMT 2009-2013
KTM 1050 Adventure 2015-2016
KTM 1090 Adventure R 2017
KTM 1190 Adventure 2013-2016
KTM 1190 Adventure R 2013-2016
KTM 1290 Super Adventure 2015-2016
KTM 1290 Super Adventure R 2017
KTM 1290 Super Adventure S 2017-2018
KTM 1290 Super Adventure T 2017
KTM 1290 Super Enduro Duke GT 2019
KTM SC 620 Super Competition 1996-2000
Piaggio Beverly 400 i.e. 2006
Sherco 250 SE Fork Sachs 2014
Sherco 250 SE Fork WP 2014
Sherco 250 SE-R Fork Sachs 2014-2019
Sherco 250 SE-R Fork WP 2014-2019
Sherco 250 SEF Fork Sachs 2014-2019
Sherco 250 SEF Fork WP/KYB 2014-2022
Sherco 250 SEF-R Fork Sachs 2014-2019
Sherco 250 SEF-R Fork WP 2014-2019
Sherco 300 SE Fork Sachs 2014-2019
Sherco 300 SE Fork WP 2014-2019
Sherco 300 SE-R Fork Sachs 2014-2019
Sherco 300 SE-R Fork WP 2014-2019
Sherco 300 SEF Fork Sachs 2014-2019
Sherco 300 SEF Fork WP/KYB 2014-2022
Sherco 300 SEF-R Fork Sachs 2014-2019
Sherco 300 SEF-R Fork WP 2014-2019
Sherco 450 SEF Fork Sachs 2015-2020
Sherco 450 SEF Fork WP/KYB 2015-2022
Sherco 450 SEF-R Fork Sachs 2015-2020
Sherco 450 SEF-R Fork WP 2015-2020
Sherco 2.5i-F 2009-2012
Sherco 3.0 SEF-R Isde 2012
Sherco 4.5 4T 2004-2008
Sherco 4.5 If 2009-2012
Sherco 4.5 SEF-R Isde 2015
Sherco 5.1 4T 2006-2008
Sherco 5.1 If 2009-2011
Sherco SE 2.5i 2012-2013
Sherco SE 3.0 2010-2011
Sherco SE 3.0i 2012-2013
Sherco SE 4.5i 2012-2013
Sherco SE 5.1i 2012-2013
Sherco SE-R 2.5 Isde 2014-2019
Sherco SE-R 3.0 Isde 2014
Triumph Bonneville Bobber 2018-2022
Triumph Bonneville Bobber Black 2018-2022
Yamaha Tenere 700 2019-2021
Yamaha XV 1600 Road Star 2004-2010
Yamaha XV 1600 Road Star Midnight 2004-2010
Yamaha XV 1600 Road Star Silverado 2004-2010
Yamaha XVZ 1300 Royal Star Tour Deluxe 2005-2009
---
We Also Recommend